Chief Executive Officer (CEO) with the Executive Team
:
The CEO and the Executive Team at CORE Education Trust have delegated responsibilities for the operational running of the Trust including supporting academies and governance. The CEO is the Accounting Officer, supported by the Chief Operating Officer who is the Chief Financial Officer. The CEO and the Executive team report upwards to the Board of Trustees.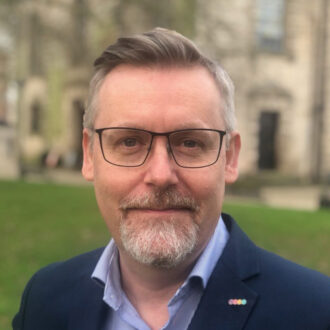 CORE Education Trust CEO
Adrian Packer CBE
Adrian Packer CBE
CORE Education Trust CEO
Adrian was appointed Executive Principal of Park View Educational Trust (now CORE Education Trust) in 2014. He was also Principal of Park View School (now Rockwood Academy) at that time.
Prior to this, in 2012 Adrian was the founding Principal of Everton Alternative Provision Free School and 6th Form College, the first Free School set up by a Premier League football club.
From 2010, Adrian was part of the founding team of Birmingham Ormiston Academy (BOA), an arts academy partnered with The BRIT School. Adrian was a senior Artistic Director at the BRIT School for 12 years and taught some of the country's highest profile, award-winning talent in the music, theatre, film and television industries during that time.
Adrian is currently a Member of the LIPA (Liverpool Institute for Performing Arts) Council and Director and Governor of the LIPA 6th Form.
Adrian is an independent non-executive Director of ukactive and the Chair of ukactive Kids Council.
In 2018 Adrian conceived the Echo Eternal project, a commemorative arts participation project, which brings together groups of schools with different characteristics and uses Holocaust survivor testimony to inspire community integration and empathy. In 2019, he was awarded a Points of Light Award from the Prime Minister for this work.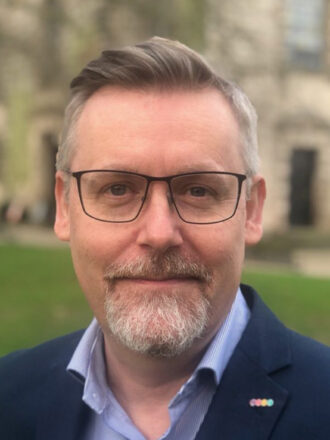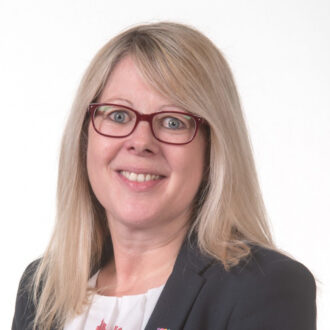 Deputy CEO
Joanne Tyler
Joanne Tyler
Deputy CEO
Joanne is a co-founder of CORE Education Trust. She has a wealth of experience and expertise as a business leader within the public education sector. Joanne oversees the day to day running of the Trust and its schools.
Joanne has a well-established track record in education, with considerable previous experience working as a School Business Manager in many varied and challenging circumstances. She continues to mentor and coach other leaders and works with national organisations to inform best practice.
Before working in the education sector, Joanne had a successful career as a contract manager within the private sector.
Joanne is the Deputy CEO, Chief Finance Officer and Company Secretary for CORE Education Trust.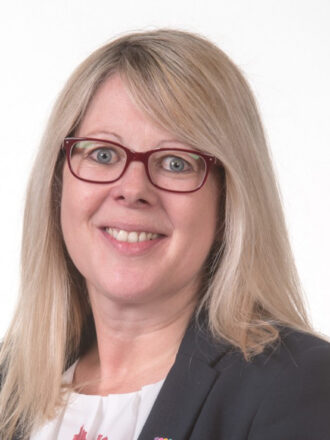 Director of Education
SAIQA LIAQAT
SAIQA LIAQAT
Director of Education
Saiqa is the Director of Education for the Trust. She supports the school leadership teams with school improvement and strategic planning. She started her working career in publishing working for regional, national and international publications. She has been involved in education for over 19 years holding several senior roles including school improvement consultancy and senior management roles in schools across the UK and internationally. She has worked collaboratively with several Government agencies and has setup soft federations to encourage collaboration within education. Saiqa is driven by the moral imperative to improve educational standards and outcomes for all young people.
Saiqa is a keen skier and field hockey player and has developed a passion for photography. She is an active participant in sporting clubs in the region.
Head of Governance
BECKY PERKES
BECKY PERKES
Head of Governance
Becky is the Head of Governance, overseeing governance at all levels across the trust. Prior to joining the Trust, Becky worked in school governance for a number of years, managing the regional governance network for a large multi academy trust.
Becky has spent her career working in education in the West Midlands, and is particularly passionate about working with children and young people from vulnerable or disadvantaged backgrounds. She started her career as a secondary school teacher in inner city Birmingham and has subsequently worked in a range of educational management roles, including as an Education Project Manager for a national charity, as a Head of Centre for a DfE sports based learning programme called 'Playing for Success' and as a School Improvement Advisor with the Local Authority.
Head of People and Organisation Development
Emma Ruffinato
Emma Ruffinato
Head of People and Organisation Development
Head of Projects and Curriculum
Laura Borenstein
Laura Borenstein
Head of Projects and Curriculum
Laura is the Head of Projects and Curriculum with the Trust. She works to support and help co-ordinate schools, project teams and external collaborators to develop and integrate COREs unique projects into the educational and life experience of pupils.
She is an experienced educational leader with a successful background in education and Artistic project management. She was musical director for the Channel Four History series 'Timelines' aged fourteen and has worked for Music for Youth and the Arts Council. A trained musician Laura was an orchestral instrumentalist and choral singer trained at Chetham's School of Music and Oxford University as choral and performance scholar. She has presented live broadcasts for Classic FM and was a winner of the BBC Young Artist's Forum.
In Project Management she has more recently specialized in the development of collaborative working between organizations, donors, charities, schools, universities, broadcasting, marketing and arts organizations to develop original and innovative new opportunities for young people. Laura trained in Program and Project Management at University of Virginia and in IPS schemes, supporting people into work with the Centre for Mental Health. She is a DSL trained safeguarding and pastoral worker, always driven by the belief that when offered the right opportunities a young person's context does not have to determine their life chances.
She has a particular interest in political heritage, language and history and received the Byrne award for historical research. She speaks French and has used and developed language skills whilst working on orchestral and chamber music projects in France and Italy.
She has always enjoyed creating events and enterprises such as running community choirs, music festivals, art and craft groups and organizing enrichment visits and activities. She is a regular volunteer with the Bethany Food Bank in Erdington committed to working to help improve conditions for vulnerable adults and families. She has a love of the natural world whether gardening, grows a lot of fruit, flowers and vegetables – or being in the countryside. She enjoys running, hiking and yoga.
Head of Student Leadership
Fela Lufadeju
Fela Lufadeju
Head of Student Leadership
Partnership Officer
Clara Matty
Clara Matty
Partnership Officer