A Year 8 bubble worked with @HighlySprung in their first Echo Eternal Horizons 2021 prep session. Year 8 were exploring their feelings and responses to discrimination. @EchoEternal112
"I worked with Mark in Year 8, I learnt so much and gained so much confidence through Echo Eternal and Highly Sprung" – Parina, Year 9 Student.
Last week's Arena Academy Conduct Cup.
We love to see students thriving beyond their class work and, succeeding as form groups.
It is a great way for students to stay motivated and collaborate.

Mrs Fulgence Year 8 Food Technology assessment grades were excellent.
Well Done Year 8 for your success while studying Fairtrade farming and Carbon Footprint.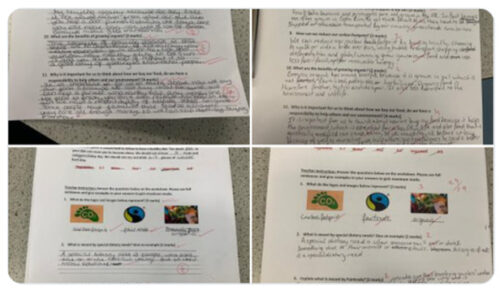 Jewellery Quarter Academy Eternal Flames acknowledge the importance of the work they do with their Holocaust survivors.
Talal and Ellie shared their understanding of what they have learnt so far from these partnerships.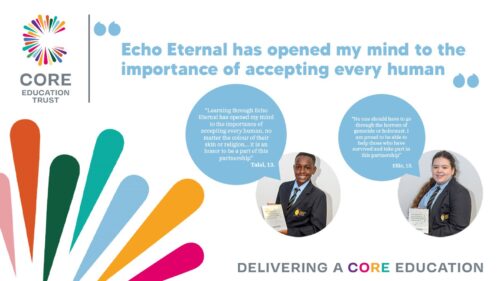 Fantastic rehearsals last week with Jewellery Quarter Shakespeare Festival students.
Miss Bowen expressed her pride in their determination to excel on the stage.
We are looking forward to seeing our young actors rehearsing in costume.
We saw excellent levels of engagement in French at Rockwood Academy.
It is a pleasure to see our students engaged and enthusiastic as they study languages.
Rockwood students prepared for Horizons 2021 as part of the @EchoEternal112 project.
With workshops taking place at each school last week, we look forward to seeing what the Horizons performance will present to commemorate Holocaust Memorial Day 2021.
'From Testimony to Echo' Students reflect on their experiences of meeting with the survivors of the 1994 #genocideagainsttutsi in #Rwanda, and the impact that creating the Echo has had on them. With special thanks to @FoundIshami
Eric Murangwa Eugene MBE, Beatha Uwazaninka, Marie-Chantal Uwamahoro, interviewed by Natasha Kaplinsky OBE.
From Testimony to Echo was produced and directed by Paul Davies of Vyka Limited and is just one example of our partnership work. We share our @TeachingAwards Silver Award for Impact through Partnerships with you.
---